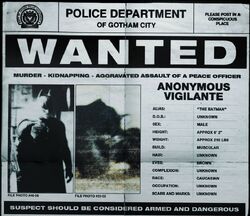 Keep your eye out for "John Doe"...aka Batman! As part of the viral marketing for The Dark Knight Rises, the official website has some intriguing new materials up asking for ordinary citizens (like ourselves) to report Batman sightings around the world!
Resembling a police file, the website is attempting to create a profile based on all the batsigns to bring vigilante Batman to justice for the upcoming arrival of Harvey Dent Day.
You can see the complete list of participating cities and their specific street locations here as well as specific pictures that people have submitted here.
If you take a picture, tag #tdkr07202012 on Twitter or email it to tdkr07202012@gothampolicedepartment.com to unlock all the frames of a new trailer! Be sure to tweet @DCDatabase so we can follow along!
---
---
Ad blocker interference detected!
Wikia is a free-to-use site that makes money from advertising. We have a modified experience for viewers using ad blockers

Wikia is not accessible if you've made further modifications. Remove the custom ad blocker rule(s) and the page will load as expected.