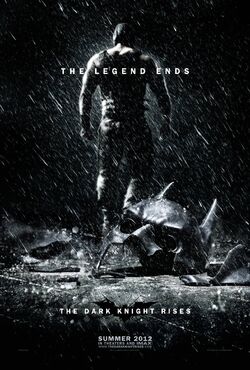 Rumors have been rolling about the end of the Christopher Nolan Batman reboot franchise. Will Nolan cap it with a trilogy? Is it a fitting end for arguably the best Batman movies to date? Or should he continue to make more movies with an amazing crew and cast?
Recently, it was revealed that The Dark Knight Rises would be set 8 years into the future after The Dark Knight, with an aging hero in Batman. Now, EW has the latest bleak posters for the upcoming movie, and things do not look good for Batman.
Titled "The Legend Ends," the ominous poster features Bane walking away from Batman's signature mask...could this really signal the end of Batman, or simply the end of the franchise? With Bane's casting as the one who broke the Bat's back, things don't bode well for Batman either way.
Take a look and let us know what you think!
Ad blocker interference detected!
Wikia is a free-to-use site that makes money from advertising. We have a modified experience for viewers using ad blockers

Wikia is not accessible if you've made further modifications. Remove the custom ad blocker rule(s) and the page will load as expected.