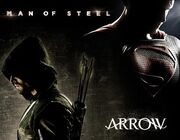 Hi, I'm DodgerNYC, and I am a big superhero fan. I love both Marvel and DC heroes, some of my favorites being Batman, Superman, Spider-Man, Daredevil, and the X-Men. I love the DC Animated Universe, espeically the Batman Animated Series, and I recently became hooked on Young Justice. It's such a great show!
Anyways, I have high hope for the upcoming DC movies. Here is my personal idea of how their upcoming shared Movieverse could go (as of now, Man of Steel in 2013 is the only official one; the rest are just my personal ideas):
DC Movieverse - Phase One (Introduce our main heroes, Justice League in 2016, Darkseid)
Man of Steel in 2013 - Superman's origin story of how he came to earth and became a hero, saving Metropolis, and the world, from the evil General Zod; Black Zero is rumored.
World's Finest in 2015 - Superman and Batman first fight, but later team up to stop the combined forces of Lex Luthor and Braniac, the later of whom Superman learns was involved in destroying Krypton.
Wonder Woman in 2016 - Princess Diana meets Steve Trevor and becomes a heroine in the Man's World. She hopes to protect women everywhere, but when a poor victim of Project Cadmus's twisted attempt at splicing becomes the vengeful Cheetah, Diana must take her down.
Justice League in 2016 - Following the attempts of Zod and Braniac, Darkseid aims to conquer Earth like they could not. Martian Manhunter recruits Superman, Batman, Wonder Woman, The Flash, Green Lantern, and Aquaman to save Earth. Darkseid is seemingly killed.
The Batman in 2017 - Batman works alongside Dick Grayson, his new partner Robin, to take down the Riddler and return him and other escaped convicts - the Joker, Two-Face, Scarecrow - to Arkham Asylum. Inspired by the Arkahm Asylum/City video games and the Batman: Dark Victory comic.
The Flash in 2017 - Barry Allen loves media attention, but he sets his sights on the sinister Project Cadmus, the place he was genetically turned into the Flash. To his horror, he finds his own runaway nephew, Wally West, subject to the same experiment; Flash rescues him, and Wally becomes Kid Flash. Project Cadmus is investigated and taken over by the trusted Amanda Walker.
The Green Lantern Corps in 2018 - Hal Jordan leads a corp of new Green Lanterns, notably John Stewart and Guy Gardner, but Hal must fight his own past failure - his love he failed to save, Star Sapphire. At the end, Darkseid is shown to still be alive.
DC Movieverse - Phase Two (Sequels, tie in Arrow tv show, Vandal Savage leading Legion of Doom)
Man of Steel II in 2018 - Superman is shocked when Lex Luthor is elected President, but an investigation into his enemy's business reveals underhanded work within Project Cadmus - and Superman discovers a clone of himself, made from his and Luthor's DNA: Superboy.
Nightwing in 2019 - Dick Grayson quits being Robin when Batman allows Dick's girlfriend, Barbara Gordon, to become Batgirl. He becomes Nightwing and faces the mercenary Deathstroke (from the Arrow tv show), but when he finds the man who killed his parents, Tony Zucco, Dick must decide whether or not he agrees with his ex-mentor's one rule. Inspired by the BTAS episodes Old Wounds and Robin's Reckoning.
Arrow: Prison-Break in 2019 - The shelved Green Arrow: Escape from Super-Max movie adapted to conclude the hit CW tv series (would have had 6 seasons by now). Arrow works with Black Canary, Red Arrow, Speedy, and Diggle to escape the Super-Max prison and fight off the likes of Meryln and the Count.
The Batman II in 2020 - Batman's new Robin is an angry street kid, Jason Todd. The Joker escapes Arkham with the helps of Harley Quinn, though Batman and Batgirl are reoccupies with the deadly League of Assassins who appear in Gotham. Joker kidnaps Jason and beats him to death, Ra's al Ghul finds his body as the end. Inspired by Mad Love and A Death in the Family.
Justice League Dark in 2020 - Guillermo del Toro's team-up of Zatara and Zatanna, Swamp Thing, John Constantine, previously called Dark Universe. Based on the comics of the same name. Zatanna joins the Justice League.
Young Justice in 2021 - Nightwing, Batgirl, Kid Flash, Superboy, Cyborg, Speedy and Red Arrow, and a newly-arrived Miss Martian prove their worth by fighting the villainous Vandal Savage as a team. Based mainly on the television series of the same name.
Justice League II in 2021 - The League, many more heroes this time, face off against Vandal Savage's Legion of Doom, composing of Metallo, Bane, Cheetah, Mirror Master, Sinestro, and others - but the villains have stolen Batman's paranoid plans on how to defeat his fellow Leaguers. Inspired by the Tower of Babel comic and the Justice League: Doom movie.
DC Movieverse - Phase Three (Personal challenges for Bats and Supes, Darkseid returns)
The Batman III in 2022 - Tim Drake becomes Robin after deducing Batman's identity, and he helps Batman and Batgirl to take down the murderous Hush. However, a vengeful Jason Todd, revived by Ra's al Ghul as the Red Hood, goes after Batman and his replacement Robin. Joker reappears to murder Jason once again and shoot Barbara in the spine, permanently crippling her, all to drive Batman over the edge. Inspired by Batman: Hush, Under the Hood, and The Killing Joke.
Man of Steel III in 2022 - Superman and Superboy fight against the terrifying Doomsday with the help of a newly-arrived Supergirl, but it seems all hope is lost when Superman meets his end against the moster. Has Superman really been killed by Doomsday?
Birds of Prey in 2022 - Oracle forms her own special-ops team with Black Canary, Speedy, and Huntress to take down the Gotham City Sirens - Poison Ivy, Harley Quinn, and Catwoman - but Catwoman later joins the heroes. Cassandra Cain prevents her League of Assassins father from killing Commissioner Gordon, and Cassandra is taken in by the team as the new Batgirl.
Justice League III in 2023 - Doomsday was merely a pawn of Darkseid, who returns to fight Batman, Wonder Woman, John Stewart, Cyborg, Hawkgirl, Arrow, Black Canary, Zatanna, Aquaman, Flash, and others; it seems like the end until Superman makes a triumphant return and helps defeat Darkseid for good.
Batman Beyond in 2023 - Years in the future, Bruce Wayne retires and trains Terry McGinnis as the new Batman; Terrry seeks vengeance against Derek Powers, who transforms into Blight, because Powers murdered Terry's father. This movie has been shelved for a while.
My favorite pages
Edit
Add links to your favorite pages on the wiki here!
Favorite page #2
Favorite page #3