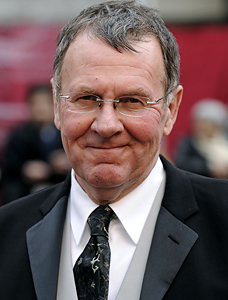 Tom Wilkonson portrayed Carmine Falcone in Batman Begins.
Significant roles
Edit
Ransome in Smuga cienia (1976)
Martin Taylor in Spyship (1983)
Inspector Neele in A Pocket Full of Rye (1985)
Raymond Gould in First Among Equals (1986)
Ernest Simpson in The Woman He Loved (1988)
Silberbauer in The Attic: The Hiding of Anne Frank (1988)
Peter Rawlins in Prime Suspect (1991)
Det. Insp. Charlie Resnick in Resnick: Lonely Hearts (1992)
D.I. Charlie Resnick in Resnick: Rough Treatment (1993)
Father Matthew Thomas in Priest (1994)
Seth Pecksniff in Martin Chuzzlewit (1994)
Mr. Dashwood in Sense and Sensibility (1995)
Robert Beaumont in The Ghost and the Darkness (1996)
Gerald in Full Monty (1997)
Marquess of Queensberry in Wilde (1997)
Thomas Griffin/Juntao in Rush Hour (1998)
Hugh Fennyman in Shakespeare in Love (1998)
Gen. Lord Charles Cornwallis in The Patriot (2000)
Matt Fowler in In the Bedroom (2001)
Dr. Frederick Chasuble in The Importance of Being Ernest (2002)
Pieter Van Ruijven in Girl with a Pearl Earring (2003)
Bingley Crocker in Piccadilly Jim (2004)
Dr. Howard Mierzwiak in Eternal Sunshine of the Spotless Mind (2004)
Tuppy in A Good Woman (2004)
Carmine Falcone in Batman Begins (2005)
Father Moore in The Exorcism of Emily Rose (2005)
Max Hagan in The Night of the White Pants (2006)
Stephen in The Last Kiss (2006)
Rudy Holt in Dedication (2007)
Howard in Cassandra's Dream (2007)
Arthur Edens in Michael Clayton (2007)
James Baker in Recount (2008)
Lenny Cole in RocknRolla (2008)
Gen. Friederich Fromm in Valkyrie (2008)
Howard Tully in Duplicity (2009)
Archie in 44 Inch Chest (2009)
Paul Emmett in The Ghost Writer (2010)
Goebbels in Jackboots on Whitehall (2010)
Stefan in The Debt (2010)
Dr. Knox in Burke and Hare (2010)
James Reid in The Green Hornet (2011)
Joe Kennedy Sr. in The Kennedys (2011)
"I guess so. I rather liked him. I kind of thought it was fun to play. But I thought it was a great role."
"Well, my character's mad and possibly dead so I don't think I'll come back for a sequel. I suppose he might come back as the Riddler, just completely off his head."
Ad blocker interference detected!
Wikia is a free-to-use site that makes money from advertising. We have a modified experience for viewers using ad blockers

Wikia is not accessible if you've made further modifications. Remove the custom ad blocker rule(s) and the page will load as expected.