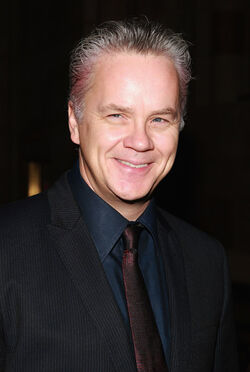 Tim Robbins portrayed Senator Hammond in Green Lantern.
Significant roles
Edit
Joseph Cotten in Malice in Wonderland (1985)
Merlin in Top Gun (1986)
Phil Blumburtt in Howard the Duck (1986)
Harry in Five Corner (1987)
Nuke LaLoosh in Bull Durham (1988)
Delmount Williams in Miss Firecracker (1989)
Erik in Erik the Viking (1989)
Bob Roberts in Bob Roberts (1992)
Andy Dufresne in The Shawshank Redemption (1994)
Ed Walters in I. Q. (1994)
Nick Beam in Nothing to Lose (1997)
Oliver Lang in Arlington Road (1999)
The President in Austin Powers: The Spy Who Shagged Me (1999)
Woody Blake in Mission to Mars (2000)
Nathan Bronfman in Human Nature (2001)
Dave Boyle in Mystic River (2003)
Harlan Ogilvy in War of the Worlds (2005)
The Stranger in Tenacious D in The Pick of Destiny (2006)
Loris Harrow in City of Ember (2008)
Robert Hammond in Green Lantern (2011)
Please add quotes from the performer about their work in DC Movies!
Ad blocker interference detected!
Wikia is a free-to-use site that makes money from advertising. We have a modified experience for viewers using ad blockers

Wikia is not accessible if you've made further modifications. Remove the custom ad blocker rule(s) and the page will load as expected.