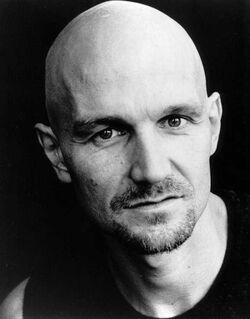 Tim Booth portrayed Victor Zsasz in Batman Begins.
Significant roles
Edit
Luke - 1921 in Skarecrow (2004)
Victor Zsasz in Batman Begins (2004)
Judas in Manchester Passion (2006)
Gabriel De Souza in Poor Wee Mee (2010)
"I should say my favourite hero is Batman, 'cause I just got my arse kicked in the new Batman movie, by the "caped-crusader". I have a tiny part, as a serial killer, and while I was in make-up, Batman was undergoing his three hour costume transformation (How these Super-heroes ever get to a crime scene on time, is beyond me!). Anyway, Christian Bale (Batman) got out of his seat, shook my hand, and said "Tim Booth? From James? Laid is one of my all time favorite albums. It saw me through a really difficult time." So, in an act of mutual, back-slapping, respect, I'll say Batman."
Ad blocker interference detected!
Wikia is a free-to-use site that makes money from advertising. We have a modified experience for viewers using ad blockers

Wikia is not accessible if you've made further modifications. Remove the custom ad blocker rule(s) and the page will load as expected.