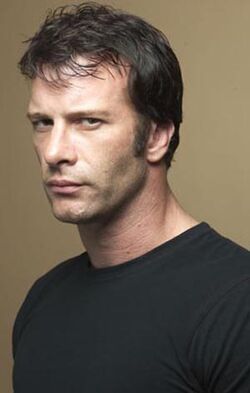 Thomas Jane voiced Jonah Hex in DC Showcase: Jonah Hex.
Significant roles
Edit
Zeph in Buffy the Vampire Slayer (1992)
Nemo in The Crow: City of Angels (1996)
Neal Cassady in The Last Time I Committed Suicide (1997)
Burke Hicks in Face/Off (1997)
Todd Parker in Boogie Nights (1997)
Pvt. Ash in The Thin Red Line (1998)
Carter Blake in Deep Blue Sea (1999)
Young Jimmy Gator in Magnolia (1999)
Brack in Jonni Nitro (2000)
Mickey Mantle in 61* (2001)
Billy/Walter Downs/Mephisto in Original Sin (2001)
Dov in Eden (2001)
Peter Donahue in The Sweetest Thing (2002)
Henry in The Dream Catcher (2003)
Andre Stander in Stander (2003)
Frank Castle/The Punisher in The Punisher (2004)
Clay Bicks in Medium (2006)
David Drayton in The Mist (2007)
Maj. "Mitch" Hunter in Mutant Chronicles (2008)
Wayne Colson in Killshot (2008)
Ray Drecker in Hung (2009-2011)
Vegan Police in Scott Pilgrim vs. The World (2010)
Jonah Hex in DC Showcase: Jonah Hex (2010)
Richard in I Melt with You (2011)
Please add some quotes from this performer about their work in DC movies!
External links
Edit
Ad blocker interference detected!
Wikia is a free-to-use site that makes money from advertising. We have a modified experience for viewers using ad blockers

Wikia is not accessible if you've made further modifications. Remove the custom ad blocker rule(s) and the page will load as expected.