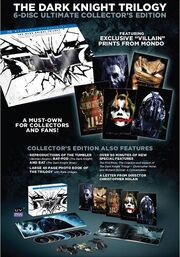 The Dark Knight Trilogy: Ultimate Collector's Edition is a collection of Batman films starting Christopher Nolan.
Collection Includes
Edit
The Fire Rises: The Creation and Impact of The Dark Knight Trilogy
Christopher Nolan & Richard Donner: A Conversation
IMAX® Sequences: The Dark Knight; The Dark Knight Rises
Exclusive NEW Memorabilia: Premium Mattel Hot Wheels Batmobile, Batpod and Tumbler Vehicles; Newly commissioned collectible art cards by Mondo featuring The Scarecrow, The Joker, Bane, Harvey Dent, and Ra's al Ghul; and, A 48-page hardcover book featuring production stills and behind the scenes images from all three movies.
Ad blocker interference detected!
Wikia is a free-to-use site that makes money from advertising. We have a modified experience for viewers using ad blockers

Wikia is not accessible if you've made further modifications. Remove the custom ad blocker rule(s) and the page will load as expected.