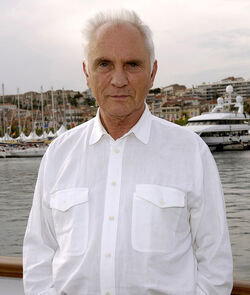 Terence Stamp portrayed General Zod in Superman: The Movie and Superman II. He also voices Jor-El in TV's Smallville and its TV movie Smallville: Finale.
Significant roles
Edit
Billy Budd in Billy Budd (1962)
Dave Fuller in Poor Cow (1967)
Alain in Striptease (1976)
General Zod in Superman: The Movie (1978)
Henry in Amo non amo (1979)
General Zod in Superman II (1980)
David Audley in Chessgame (1983)
Victor Taft in Legal Eagles (1986)
Jack Schmidt in The Real McCoy (1993)
Baltazar in Bliss (1997)
Chancellor Valorem in Star Wars: Episode I - The Phantom Menace (1999)
Ramsley in The Haunted Mansion (2003)
Jor-El in Smallville (2003-2011)
Stick in Elektra (2005)
Pekwarsky in Wanted (2008)
Siegfried in Get Smart (2008)
Terrence Bundley in Yes Man (2008)
Ad blocker interference detected!
Wikia is a free-to-use site that makes money from advertising. We have a modified experience for viewers using ad blockers

Wikia is not accessible if you've made further modifications. Remove the custom ad blocker rule(s) and the page will load as expected.