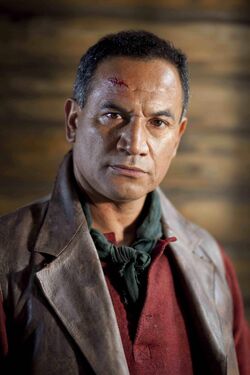 Temuera Morrison portrayed Abin Sur in Green Lantern and will portray Thomas Curry in the upcoming Aquaman.
Significant roles
Edit
Hone Ropata in Shortland Street (1992-2008)
Jake Heke in Once Were Warriors (1994)
Azazello in The Island of Dr. Moreau (1996)
Juliano in Speed 2: Cruise Control (1997)
Jake Heke in What Become of the Broken Hearted? (1999)
The Hangman in From Dusk Till Dawn 3: The Hangman's Daughter (1999)
Major Rasul in Vertical Limit (2000)
Jango Fett in Star Wars, Episode II: Attack of the Clones (2002)
Runi in Blueberry (2004)
Commander Cody in Star Wars, Episode III: Revenge of the Sith (2005)
Briggs in Couples Retreat (2009)
Damo in The Marine 2 (2009)
Abin Sur in Green Lantern (2011)
"You know they are making sequels right? They want me to come back in the sequel. They want to show you my backend story for the next movie. They want to show you how I become part of Green Lantern Corps."
Ad blocker interference detected!
Wikia is a free-to-use site that makes money from advertising. We have a modified experience for viewers using ad blockers

Wikia is not accessible if you've made further modifications. Remove the custom ad blocker rule(s) and the page will load as expected.