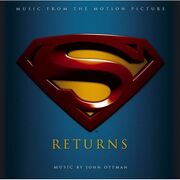 Superman Returns is the soundtrack to the film of the same name Music composed by John Ottman.
Track list
Edit
"Main Titles" (3:47)
"Memories" (3:05)
"Rough Flight" (5:11)
"Little Secrets/Power of the Sun" (2:47)
"Bank Job" (2:19)
"How Could You Leave Us?" (5:47)
"Tell Me Everything" (3:11)
"You're Not One of Them" (2:20)
"Not Like the Train Set" (5:10)
"So Long Superman" (5:29)
"The People You Care For" (3:25)
"I Wanted You to Know" (2:54)
"Saving the World" (3:10)
"In The Hands of Mortals" (2:09)
"Reprise/Fly Away" (4:17)
Ad blocker interference detected!
Wikia is a free-to-use site that makes money from advertising. We have a modified experience for viewers using ad blockers

Wikia is not accessible if you've made further modifications. Remove the custom ad blocker rule(s) and the page will load as expected.