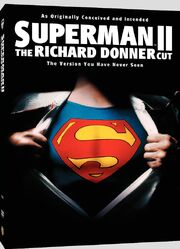 Superman II: The Richard Donner Cut was released on Blu Ray on November 28, 2006.
Richard Donner's cut includes footage shot but never used, including a never-before-seen beginning, a never-before-seen resolution, 15 minutes of restored footage of Marlon Brando as Jor-El, and more
All-new introduction by Richard Donner
Commentary by Donner and creative consultant Tom Mankiewicz
New featurette "Superman II: Restoring the Vision"
Deleted scenes
Ad blocker interference detected!
Wikia is a free-to-use site that makes money from advertising. We have a modified experience for viewers using ad blockers

Wikia is not accessible if you've made further modifications. Remove the custom ad blocker rule(s) and the page will load as expected.