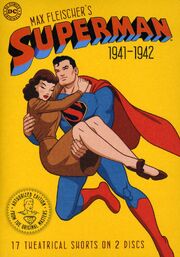 Max Fleischer's Superman: 1941-1942 was release on DVD on April 7, 2009 and some of the shorts were feature on The Superman Motion Picture Anthology, 1978-2006 on Blu Ray.
Special Features
Edit
17 animated theatrical shorts
First Flight: The Fleischer Superman Series: the origins and influence of this groundbreaking cartoon series
The Man, the Myth, Superman: exploring the tradition of "superhuman" heroes on the page and screen
Exclusive sneak peek at DC Universe's upcoming animated feature Green Lantern
Ad blocker interference detected!
Wikia is a free-to-use site that makes money from advertising. We have a modified experience for viewers using ad blockers

Wikia is not accessible if you've made further modifications. Remove the custom ad blocker rule(s) and the page will load as expected.