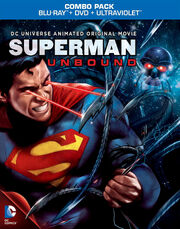 Superman: Unbound was released by Warner Home Video as a Blu-ray Combo Pack and DVD, On Demand and for Download on May 7, 2013. The Blu-ray Combo Pack will include UltraViolet.
Combo Pack
Edit
The DVD/Blu-ray/Ultraviolet combo pack will include 2 hours of content, including:
Standard and high definition versions of the feature film in UltraViolet and Blu-ray.
Sneak Peak at Justice League: The Flashpoint Paradox, the next DC Universe Animated Original Movie.
Standard and high definition versions of the feature film
Featurette – "Kandor: History of the Bottle City" – An all-new featurette. Kandor: a peaceful scientific community dedicated toward the preservation of all that is good on Krypton, the home world of Superman.  That is, until the city was ripped from its world and placed into a small glass bottle!  This is the short story highlighting the shrunken city of Kandor.  Its history just as fascinating as it is unique, here is how it ties in directly with the Man of Tomorrow.
Featurette – "Brainiac: Technology and Terror" – An all-new featurette.  Mostly machine, but part sentient being, Brainiac steals cities and destroys worlds.  Is he the most vile of Superman's villainous foes?  Experience the Brainiac mythology and find out why Superman barely stands a chance!
Audio Commentary – Featuring members of the creative team: Mike Carlin, Bob Goodman and James Tucker.
Four bonus episodes from Superman: The Animated Series ("The Last Son of Krypton, Part 1"; "New Kids in Town"; and "Little Girl Lost, Parts 1 & 2"), all handpicked by producer Alan Burnett.
Digital Comic – Excerpt from the graphic novel Superman: Brainiac by Geoff Johns and Gary Frank.