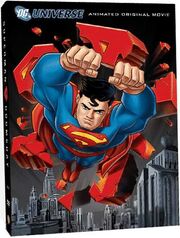 Superman: Doomsday was released on DVD September 18, 2007 and as a two disc on DVD and Blu Ray on November 25, 2008.
2007 Special Features
Edit
Audio Commentary
Featurette
Interviews
Other
2008 Special Features
Edit
When Heroes Die: The Making of Superman Doomsday featurette
The Clash of the Juggernauts featurette
Requiem and Rebirth: Superman Lives!: a comprehensive documentary about how the DC Comics team decided Superman's fate
Commentary by producer Bruce Timm, writer Duane Capizzi, voice director Andrea Romano, and executive producer Gregory Noveck
Wonder Woman sneak peek
Behind the Voice featurette Bruce Timm's top picks: 4 bonus episodes from Superman including "The Animated Series: Apokolips... Now! parts 1 and 2," "Brave New Metropolis," and "Mxyzpixilated"