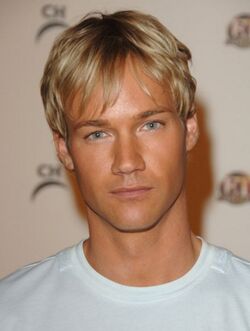 Steve Byers portrayed Desaad in Smallville: Finale.
Significant roles
Edit
Ab Cedee in 2gether: The Series (2000)
Jason Tanner in Falcon Beach (2005)
Jason Tanner in Falcon Beach (2006-2007)
Jason Tanner in The Dresden Files (2007-2008)
Will McGregor in Wild Roses (2009)
Desaad in Smallville (2010-2011)
Steve Kowalski in Against the Wall (2011)
Heracles in Immortals (2011)
Olaf Stoltzfus in Call Me Fitz (2011)
Hauser Cover Identities in Total Recall (2012)
Gray in The L.A. Complex (2012)
John Bennett in Alphas (2012)
Please add some quotes from this perfomer about his work with DC movies!
Ad blocker interference detected!
Wikia is a free-to-use site that makes money from advertising. We have a modified experience for viewers using ad blockers

Wikia is not accessible if you've made further modifications. Remove the custom ad blocker rule(s) and the page will load as expected.