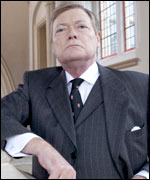 Simon Ward portrayed Zor-El in Supergirl.
Significant roles
Edit
Storyteller in Jackanory (1967-1968)
Cornelius Van Bearle in The Black Tulip (1970)
Philippe in Road to Freedom (1970)
Winston Churchill in Young Winston (1972)
Duke of Buckingham in The Three Musketeers (1973)
Duke of Buckingham in The Four Musketeers (1974)
James in All Creatures Great and Small (1975)
William Trench in The Four Feathers (1978)
Lt. William Vereker in Zulu Dawn (1979)
Gerald Croft in An Inspector Calls (1982)
Stephen Lampart in A Taste for Death (1988)
Mr. Linton in Wuthering Heights (1992)
Winston Churchill in Kurtulus (1994)
Sir Monty Everhard in Judge John Deed (2003-2007)
Mr. Lee in Family Affairs (2005)
Bishop Gardiner in The Tudors (2009-2010)
Please add some quotes from the performer about their work in DC Movies!
Ad blocker interference detected!
Wikia is a free-to-use site that makes money from advertising. We have a modified experience for viewers using ad blockers

Wikia is not accessible if you've made further modifications. Remove the custom ad blocker rule(s) and the page will load as expected.