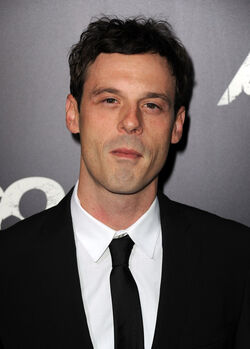 Scoot McNairy portrayed Wallace Keefe in Batman v Superman: Dawn of Justice.
Significant Roles
Edit
Augie in Herbie Fully Loaded (2005)
Dean Thomas Stilton in Jake in Progress (2006)
Dan in Mr. Fix It (2006)
Wilson in In Search of a Midnight Kiss (2007)
Noel Liftin in Bones (2007-2010)
Matt in Everything Will Happen Before You Die (2010)
Andrew Kaulder in Monsters (2010)
Joe Stafford in Argo (2012)
Jeff Dennon in Promised Land (2012)
Brown in 12 Years a Slave (2013)
Tom Bowen in Non-Stop (2014)
Gordon Clark in Halt and Catch Fire (2014)
"It's been great; I'm still in the middle of it actually. Zack Snyder is awesome. He was one of the director's on my list. Working with him has been great. It's not too different working on a studio movie, except there's more people and more money and more time. In regards to the process that I go through as an actor, it's exactly the same. Snyder has so much energy. I've never seen someone with such energy before. He's shooting and writing and editing and then goes to the gym twice a day. He's incredibly energetic and I don't know how he does it. It's contagious. I was going to the gym every day as well."
"He's an incredible filmmaker and an incredible visionary. Playing in that world with comic books you've been readings since you were a kid, being someone in that world, it's awesome."
"It's definitely 100% a character I've never played and I can't speak too freely on it, but yeah, getting into that thing was definitely something I had to wrap my head around emotionally in order to play that character. But with that being said, I had a lot of fun doing it when I was in the process of shooting on it — my head was in a different place but I'm really excited to see how it turns out and what they do with it and see the film."
Ad blocker interference detected!
Wikia is a free-to-use site that makes money from advertising. We have a modified experience for viewers using ad blockers

Wikia is not accessible if you've made further modifications. Remove the custom ad blocker rule(s) and the page will load as expected.