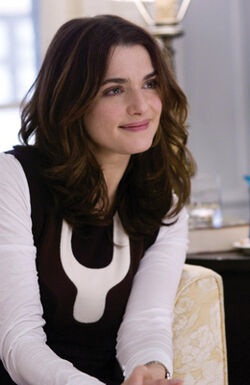 Rachel Weisz portrayed Angela and Isabel Dodson in Constantine and Isabel / Izzi Creo in The Fountain.
Significant roles
Edit
Miranda in Stealing Beauty (1996)
Dr. Lily Sinclair in Chain Reaction (1996)
Evelyn "Evy" Carnahan in The Mummy (1999)
Lauren Hinde in This Is Not an Exit: The Fictional World of Bret Easton Ellis (2000)
Tania Chernova in Enemy at the Gates (2001)
Evelyn "Evy" Carnahan/Princess Nefertiti in The Mummy Returns (2001)
Rachel in About a Boy (2002)
Evelyn Ann Thompson in The Shape of Things (2003)
Marlee in Runaway Jury (2003)
Debbie Dingman in Envy (2004)
Angela Dodson/Isabel Dodson in Constantine (2005)
Tessa Quayle in The Costant Gardener (2005)
Isabel/Izzi Creo in The Fountain (2006)
Saphira in Eragon (2006)
Sue Lynne in My Blueberry Nights (2007)
Wanda in Fred Claus (2007)
Summer Hartley in Definitely, Maybe (2008)
Penelope in The Brothers Bloom (2008)
Hypatia in Agora (2009)
Abigail Salmon in Lovely Bones (2009)
Kahtryn Bolkovac in The Whistleblower (2010)
Nancy Pierpan in Page Eight (2011)
Rose in 360 (2011)
Hester Collyer in The Deep Blue Sea (2011)
Libby in Dream House (2011)
Dr. Marta Shearing in The Bourne Legacy (2012)
Evanora in Oz: The Great and Powerful (2013)
"I had never heard of them but I am representative of the audience who doesn't know anything about them. All I know is it's a cult graphic novel with a huge following and they will have a lot to say about the movie."
"It is a great character or actually two characters to play within a world that I thought was incredibly interesting. I have always been drawn to tales of the supernatural and I thought she was very real and grounded, a real girl who enters into this fantastical world."
"He is a contradiction, because he is very down to earth and not part of the Hollywood world but very enigmatic - an international man of mystery."
Ad blocker interference detected!
Wikia is a free-to-use site that makes money from advertising. We have a modified experience for viewers using ad blockers

Wikia is not accessible if you've made further modifications. Remove the custom ad blocker rule(s) and the page will load as expected.