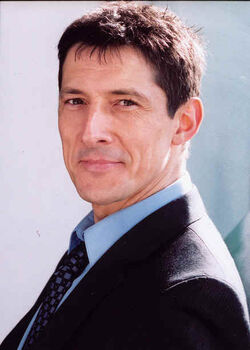 Peter Wingfield portrayed Dr. Ivan Slavicky in Catwoman.
Significant roles
Edit
Alex Taylor in Medics (1990-1992)
Danny in Crocodile Shoes (1994)
John Westlock in Martin Chuzzlewit (1994)
Methos in Highlander (1995-1998)
Tom Kirby in Noah's Ark (1997)
Insp. Simon Ross in Cold Squad (1998-1999)
Conrad Gordon in Cold Feet (1999)
Methos in Highlander: Endgame (2000)
Dr. Robert Helm in Queen of Swords (2000-2001)
Tanith in Stargate SG-1 (2000-2001)
Lyman in X2: X-Men United (2003)
Agent Jon Krakauer in Touching Evil (2004)
Dr. Ivan Slavicky in Catwoman (2004)
Witt Strobel in The L Word (2006-2007)
Dan Clifford in Holby City (2006-2009)
Methos in Highlander: The Source (2007)
Dr. Harbeck in Men in Trees (2008)
Dr. James Watson in Sanctuary (2008-2011)
David Emerson in 24 (2009)
Remy Farnwell in 10,000 Days (2010)
Hugh Prentiss in Human Target (2010)
Richard Burton in Riverworld (2010)
GDD Director Gara Singh in Caprica (2010)
Claudius in Hamlet (2011)
Please add quotes about their work in DC movies!
Ad blocker interference detected!
Wikia is a free-to-use site that makes money from advertising. We have a modified experience for viewers using ad blockers

Wikia is not accessible if you've made further modifications. Remove the custom ad blocker rule(s) and the page will load as expected.