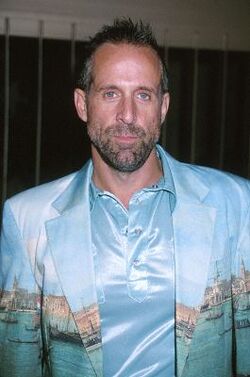 Peter Stormare portrayed Lucifer in Constantine and voiced Dracula in The Batman vs. Dracula. He appears as Werner Zytle/Vertigo on TV's Arrow.
Significant roles
Edit
The Messenger in Backanterna (1993)
Gaear Grimsrud in Fargo (1996)
Dieter Stark in The Lost World: Jurassic Park (1997)
Vladimir in Playing God (1997)
Carl Hamilton in Hamilton (1998)
Karl Hungus in The Big Lebowski (1998)
Shayes in Mercury Rising (1998)
Slippery Pete in Seinfeld (1998)
Lev Andropov in Armageddon (1998)
Cavin Guthrie in Purgatory (1999)
Dino Velvet in 8MM (1999)
Dixie in The Million Dollar Hotel (2000)
Milo Styles in Bruiser (2000)
Julius in Circus (2000)
Jeff in Dancer in the Dark (2000)
Serge Muscat in Chocolat (2000)
Oberon in Happy Campers (2001)
Carl Hamilton in Hamilton (2001)
Slovo in 13 Moons (2002)
Adrik Vas in Bad Company (2002)
Gunnery Sergeant Hjelmstad in Windtalkers (2002)
Dr. Solomon Eddie in Minority Report (2002)
Mullet Cop in Spun (2002)
Ingvar in Watching Ellie (2002-2003)
Ernst Röhm in Hitler: The Rise of Evil (2003)
Alexei in Bad Boys II (2003)
Lucifer in Constantine (2005)
Cavaldi in The Brothers Grimm (2005)
Dracula in The Batman vs. Dracula (2005)
John Abruzzi in Prison Break (2005-2006)
Emperor in Super Nacho (2006)
Snakeskin Boots in Unknown (2006)
Steinmetz in One Night with You (2006)
Woods in They Never Found Her (2007)
Blair Collet in Anamorph (2007)
Tommen in Switch (2007)
Norman Hail in Boot Camp (2008)
Arthur Grimsley in Witless Protection (2008)
Klemens in Varg (2008)
Pometheus Black/Meltdown in Transformers: Animated (2008)
Dr. Gianetti in Insanitarium (2008)
David Spitz in The Horsemen (2009)
Dr. Phillips in The Killing Room (2009)
The President in The Imaginarium of Doctor Parnassus (2009)
Aaron Cohen in Entourage (2009)
David Strauss in Ivory (2010)
Micke in Isolerad (2010)
Drago Zankovic in Hawaii Five-0 (2010)
Z in Undocumented (2010)
Gabriel in Dylan Dog: Dead of Night (2010)
Please add some quotes from this performer about their work in DC movies!
Ad blocker interference detected!
Wikia is a free-to-use site that makes money from advertising. We have a modified experience for viewers using ad blockers

Wikia is not accessible if you've made further modifications. Remove the custom ad blocker rule(s) and the page will load as expected.