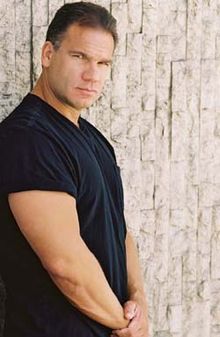 Paul Parducci voiced G'Hu in Green Lantern.
Significant roles
Edit
Jack Cheese in Silent But Deadly (1987)
Sancho in Hot Splash (1988)
Paul in Cracking Up (1994)
Leon in Hard Time (1996)
Deke Williams in Just Shoot Me! (1998)
Tiarrez in NYPD Blue (2001)
Alan in Will & Grace (2002)
Cyrus in Desperate Housewives (2005)
Coach Remmers in Drake & Josh (2008)
Billy Melons in Sinatra Club (2010)
G'Hu (voice) in Green Lantern (2011)
"Martin had me working physically in the space. Instead of working a static mic, he had me moving from one to another."
"I think Martin is one of the best directors working today. I'm one of those Directors that come to work with a shot-list and my whole day planned, so I tend to favor Directors that show up in the morning knowing what they want. As an actor I am Old-school, meaning that for me, the director is the Boss. I have to trust that he has the story in his head. From the second I met Martin in the parking lot at Warner Brothers, I knew that he both knew what he wanted and knew exactly what he was doing."
"I studied the History of the Lantern Corp. G'Hu at his foundation is a Soldier, so I started there. Since I approach all role-preparation the same way, I had to find him physically as well. Whether or not I am seen or heard, real is real and my goal is always to bring a living breathing character to the story. I studied all the available images of Gh'u and was eventually able to "fill" the character. In the case of Gh'u I found the character in my fingers."
Ad blocker interference detected!
Wikia is a free-to-use site that makes money from advertising. We have a modified experience for viewers using ad blockers

Wikia is not accessible if you've made further modifications. Remove the custom ad blocker rule(s) and the page will load as expected.