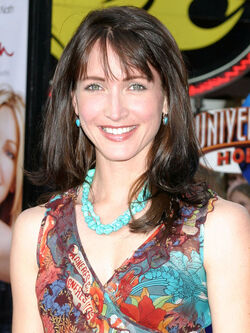 Michelle Nolden portrayed Michelle Cooper in RED.
Significant roles
Edit
T'than in Earth: Final Conflict (1998-2000)
Rachel Goldstein/Rachel Hunter in Street Time (2002-2003)
Cristyne Lategano in Rudy: The Rudy Giuliani Story (2003)
Gwen Alexander in Ghost Whisperer (2005)
Robin Brooks in Numb3rs (2006-2010)
Gena Stanton in All Hat (2007)
Sean Kuzak in ZOS: Zone of Separation (2009)
Annette DeTamble in The Time Traveler's Wife (2009)
Kathryn Leigh in Rookie Blue (2010)
Michelle Cooper in RED (2010)
Allison Jenkins in Republic of Doyle (2011)
Please add some quotes from this performer about their work on DC movies!
Ad blocker interference detected!
Wikia is a free-to-use site that makes money from advertising. We have a modified experience for viewers using ad blockers

Wikia is not accessible if you've made further modifications. Remove the custom ad blocker rule(s) and the page will load as expected.