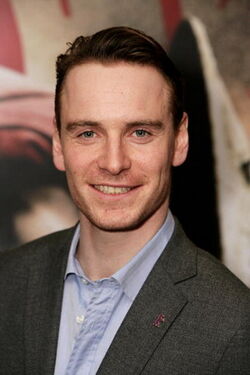 Michael Fassbender portrayed Burke in Jonah Hex.
Significant roles
Edit
Sgt. Burton 'Pat' Christenson in Band of Brothers (2001)
Azazeal in Hex (2004-2005)
Stelios in 300 (2007)
Bobby Sands in Hunger (2008)
Steve in Eden Lake (2009)
Connor in Fishtank (2009)
Lt. Archie Hicox in Inglourious Basterds (2009)
Richard Wirth in Blood Creek (2009)
Rochester in Jane Eyre (2011)
Erik Lehnsherr/Magneto in X-Men: First Class (2011)
Paul in Haywire (2011)
David in Prometheus (2012)
Edwin Epps in 12 Years a Slave (2013)
Frank in Frank (2014)
Please add some quotes from this performer about their work on DC movies!
External links
Edit
Ad blocker interference detected!
Wikia is a free-to-use site that makes money from advertising. We have a modified experience for viewers using ad blockers

Wikia is not accessible if you've made further modifications. Remove the custom ad blocker rule(s) and the page will load as expected.