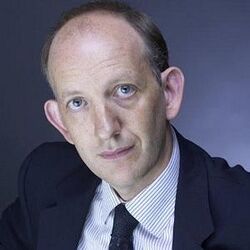 Max Baker portrayed Beeman in Constantine.
Significant roles
Edit
Nibblet in The Secret Diary of Desmond Pfeiffer (1998)
Marshall in Talk to Me (2000)
Dr. Jule Berman in Imagine That (2002)
Robber in The Time Machine (2002)
Beeman in Constantine (2005)
Mark in Purple Violets (2007)
King of Hearts in Phoebe in Wonderland (2008)
Vince Lathrop in Revolutionary Road (2008)
Raqueneau in Great Performances (2008)
"Actually the sets were so beautifully crafted and so well made that the reality of the situation – the immediate reality around one's self - when you're working is just fine. It's like being here, you know? And the costumes are great. I mean, everything is so real, the immediacy is so real that you try and live in that immediacy."
"Just terrific. Just terrific. I mean, just fine. I know people want some sort of strange, interesting story. I don't think he's strange either. I think he's quiet and very charming and nice."
"On the paper it sort of has one thing and when we see it it will probably be laden with many, many others. So hopefully there will be a lot to talk about. I mean, it deals with faith underneath the good vs. evil. The faith that people have, and everyone has faith in something so hopefully we'll generate some conversations about that."
"I think that's tough because I'm sure that when they put this together they thought, "Well, you've got to both try and appease the fans of the comic book, but appeal to people who don't know the comic book at all." That's a very difficult thing to do and hopefully they've done it. I mean, not knowing the comic book I couldn't speak for that. I'm sure there are probably some die-hard "Hellblazer" fans that will be outraged that some things have changed. On the other hand, there might be a whole bunch of new people starting to read the "Hellblazer" comics based on this."
Ad blocker interference detected!
Wikia is a free-to-use site that makes money from advertising. We have a modified experience for viewers using ad blockers

Wikia is not accessible if you've made further modifications. Remove the custom ad blocker rule(s) and the page will load as expected.