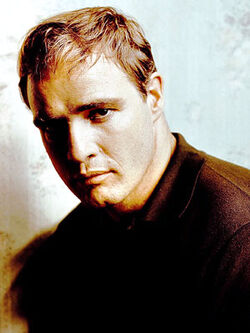 The Late Marlon Brando portrayed Jor-El in Superman: The Movie, Superman II: The Richard Donner Cut and through archive footage in Superman Returns.
Significant roles
Edit
Ken in The Men (1950)
Stanley Kowalski in A Streetcar Named Desire (1951)
Emiliano Zapata in Viva Zapata! (1952)
Mark Anthony in Julius Cesar (1953)
Johnny Strabler in The Wild One (1953)
Terry Malloy in On the Waterfront (1954)
Napoleon Bonaparte in Desirée (1954)
Sky Masterson in Guys and Dolls (1955)
Sakini in The Teahouse on the August Moon (1956)
Maj. Lloyd "Ace" Gruver in Sayonara (1957)
Lt. Christian Diestl in The Young Lions (1958)
Valentine "Snakeskin" Xavier in The Fugitive Kind (1960)
Rio in One-Eyed Jacks (1961)
1st Lt. Fletcher Christian in Mutiny on the Bounty (1962)
Ambassador Harrison Carter McWhite in The Ugly American (1963)
Freddy Benson in Bedtime Story (1964)
Robert Crain in Morituri (1965)
Sheriff Calder in The Chase (1966)
Ogden Mears in A Countess from Hong Kong (1967)
Maj. Weldon Penderton in Reflections in a Golden Eye (1967)
Sir William Walker in Queimada (1969)
Peter Quint in The Nightcomers (1971)
Don Vito Corleone in The Godfather (1972)
Paul in Ultimo tango a Parigi (1972)
Don Vito Corleone in The Godfather: A Novel for Television (1977)
Jor-El in Superman: The Movie (1978)
Col. Walter E. Kurtz in Apocalypse Now (1979)
Ian McKenzie in A Dry White Season (1989)
Carmine Sabatini in The Freshman (1990)
Tomas de Torquemada in Christopher Columbus: The Discovery (1992)
Dr. Jack Mickler in Don Juan DeMarco (1994)
Dr. Moreau in The Island of Dr. Moreau (1996)
Max in The Score (2001)
Please add quotes from this performer abouth their work in DC Movies!
Ad blocker interference detected!
Wikia is a free-to-use site that makes money from advertising. We have a modified experience for viewers using ad blockers

Wikia is not accessible if you've made further modifications. Remove the custom ad blocker rule(s) and the page will load as expected.