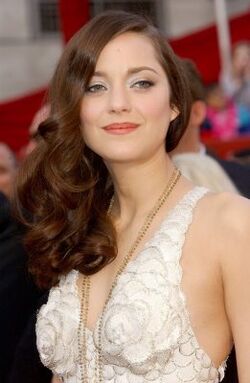 Marion Cotillard portrayed Talia al Ghul/Miranda Tate in The Dark Knight Rises.
Significant roles
Edit
Lilly Bertineau in Taxi (1998)
Lilly Bertineau in Taxi 2 (2000)
Lilly Bertineau in Taxi 3 (2003)
Sophie Kowalski in Jeux d'enfants (2003)
Mademoiselle Eva in Innocence (2004)
Tina Lombardi in Un long dimanche de fiançailles (2004)
Gretchen Mol in Mary (2005)
Fanny Chenal in A Good Year (2006)
Edith Piaf in La môme (2007)
Billie Frechette in Public Enemies (2009)
Marie Vallières de Beaumont in Le dernier vol (2009)
Luisa Contini in Nine (2009)
Mal in Inception (2010)
Dr. Leonora Orantes in Contagion (2011)
"My role is a secret, as is the whole project."
"I think it's that he's human, he can't really fly, and he doesn't have superpowers. And he has that darkness inside."
"It was a very, very small role. She's fascinated by Wayne Enterprises. They go through difficulties, and she wants to help provide the world clean energies. She's a good guy."
"He made it work and I was so happy, because I love working with him. He directs these big-scale, huge movies, but at the same time he's a real artist. He's an author. He's like an independent filmmaker directing huge movies, which is very inspiring. He's at every step of the process of the movie. He really owns the stories he tells."
"We're all in the same boat, and if sometimes it gets out of control, then everyone is involved. Sometimes there are failures, and when you see this on screen, you're thinking: 'Why? Why did they keep that take?' But either you blame everyone or nobody. But I thought people overreacted, because it was tough to be identified just with this scene [Talia's death]. When I'm doing the best I can to find the authenticity in every character that I'm playing, it's tough to be known just for this scene."
Ad blocker interference detected!
Wikia is a free-to-use site that makes money from advertising. We have a modified experience for viewers using ad blockers

Wikia is not accessible if you've made further modifications. Remove the custom ad blocker rule(s) and the page will load as expected.