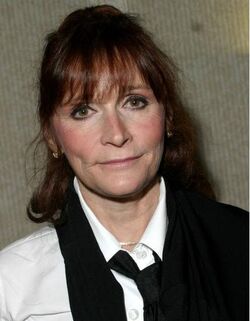 The late Margot Kidder portrayed Lois Lane in Superman: The Movie, Superman II, Superman III and Superman IV: The Quest for Peace.
Significant roles
Edit
Zazel in Quackser Fortune Has a Cousin in the Bronx (1970)
Ruth in Nichols (1971-1972)
Danielle Breton/Dominique Blanchion in Sisters (1973)
Lois Lane in Superman: The Movie (1978)
Kathy Lutz in Amityville Horror (1979)
Jeanette Sutherland in Willie & Phil (1980)
Lois Lane in Superman II (1980)
Eliza Doolittle in Pygmalion (1983)
Lois Lane in Superman III (1983)
Lois Lane in Superman IV: The Quest for Peace (1987)
Gaia in Captain Planet and the Planeteers (1994)
Roberta in Nikita (1999)
Queen Elizabeth I in Mentors (2001)
Mrs. Katerina Marmelodov in Crime and Punishment (2002)
Bridgette Crosby in Smallville (2004)
Barbara Collier in Halloween II (2009)
"I remember pretending he was Harrison Ford because I had rather a large crush on Harrison. Chris and I didn't have sexual chemistry, we had serious brother and sister chemistry - and you don't wanna be kissing your brother."
"It was very disappointing to have to redo scenes that we knew were wonderful and to redo them simply because the Salkinds didn't want to pay Donner. It was kind of disgusting. And then they redid them cheap and fast, as opposed to putting the care and love into them that Donner put into them. So we were disappointed and I was rather mouthy about it and got cut out of Superman III. I had 12 lines and one of them was, 'Oh, Clark.'"
"It was a long time ago, more than a quarter of a century ago so I hope it's my better work. It's certainly better direction."
"Oh gosh, I'm looking forward to seeing the first scene were I try and prove that I know Clark is Superman. I haven't seen this cut so you'll have to ask me afterwards."
"The directorial styles were completely different. I think Richard Lester's a wonderful director but I didn't think he was right for this because he was a little too clever and wanted to almost let the audience know that he was in on a joke, or that he was a little too hip to be doing Superman."
"It's thrilling. I never missed a chance to whip up the fans into righteous indignation, so I loved it. I'd say, 'You write Warner Brothers and make sure they release it.' So it's good. I'm delighted. I'm thrilled."
"I thought Man of Steel was wonderful and I thought that young Amy Adams was just terrific. I wanted a lot more of her, I wish they had more scenes for her."