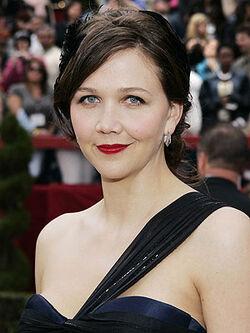 Maggie Gyllenhaal portrayed Rachel Dawes in The Dark Knight.
Significant roles
Edit
Elizabeth Darko in Donnie Darko (2001)
Amelia in Riding in Cars with Boys (2001)
Lee Holloway in Secretary (2002)
Sam in 40 Days and 40 Nights (2002)
Caroline Cunningham in Adaptation (2002)
Giselle Levy in Mona Lisa Smile (2003)
Valerie in Criminal (2004)
Jude in Happy Endings (2005)
Sherry Swanson in SherryBaby (2006)
Zee in Monster House (2006)
Allison Jimeno in World Trade Center (2006)
Ana Pascal in Stranger Than Fiction (2006)
April in High Falls (2007)
Rachel Dawes in The Dark Knight (2008)
LN Fisher-Herrin in American Life (2009)
Jean Craddock in Crazy Heart (2009)
Isabel Green in Nanny McPhee and the Big Bang (2010)
"I think she's a wonderful actress and I really admired the work that she did in the first Batman, but I don't think it would have worked if I tried to imitate her. I think the only way to do it is to do it like myself."
"They just expect you to suspend your disbelief. I'm Rachel Dawes now. I mean, how many Batmen have there been? Lots of them!"
"It hasn't really started yet, that craziness. I imagine it will and I'll just take it as it comes, that kind of thing, and in terms of the actual making of it, I anticipated it was going to be much different than making a small movie, and in the end, it didn't feel that way, and I think it was because I was working with really good actors like Gary Oldman and Michael Caine and Christian Bale, Aaron Eckhart and Heath Ledger. It felt like making any other movie, and I think Chris Nolan has a lot to do with that, and also because he really likes and respects actors, so it felt like doing good scenes in any movie."
"They took really good care of me. I thought I might get bruised up but in fact, I didn't. They really knew what they were doing. I was scared to do some of the action stuff I had to do, and I did it once, and I was like, 'Oh, this is a blast!' "
Ad blocker interference detected!
Wikia is a free-to-use site that makes money from advertising. We have a modified experience for viewers using ad blockers

Wikia is not accessible if you've made further modifications. Remove the custom ad blocker rule(s) and the page will load as expected.