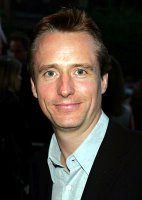 Linus Roache portrayed Dr. Thomas Wayne in Batman Begins.
Significant roles
Edit
Father Greg Pilkington in Priest (1994)
Bob Longman in Seaforth (1994)
Merton Densher in The Wings of the Dove (1997)
Samuel Coleridge in Pandaemonium (2000)
Capt. Peter A. Ross in Hart's War (2002)
Robert F. Kennedy in RFK (2002)
Purifier in The Chronicles of Riddick (2004)
Thomas Wayne in Batman Begins (2005)
Sean Kierney in Find Me Guilty (2006)
Aaron in The Ten Commandments (2006)
Andy Archer in Kidnapped (2006-2007)
Executive A.D.A. Michael Cutter in Law & Order (2008-2010)
Ad blocker interference detected!
Wikia is a free-to-use site that makes money from advertising. We have a modified experience for viewers using ad blockers

Wikia is not accessible if you've made further modifications. Remove the custom ad blocker rule(s) and the page will load as expected.