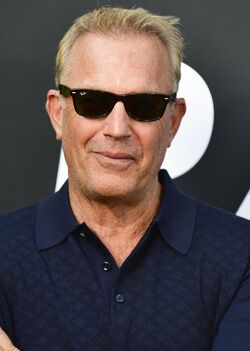 Kevin Costner portrayed Jonathan Kent in Man of Steel and Batman v Superman: Dawn of Justice.
Significant roles
Edit
Jake in Silverado (1985)
Eliot Ness in The Untouchables (1987)
Lt. Cmdr. Tom Farrell in No Way Out (1987)
Crash Davis in Bull Durham (1988)
Ray Kinsella in Field of Dreams (1989)
Lt. Dunbar in Dances with Wolves (1990)
Robin Hood in Robin Hood Prince of Thieves (1991)
Jim Garrison in JFK (1991)
Frank Farmer in The Bodyguard (1992)
Robert "Butch" Haynes in A Perfect World (1993)
Wyatt Earp in Wyatt Earp (1994)
Stephen Simmons in The War (1994)
Mariner in Waterworld (1995)
Roy "Tin Cup" McAvoy in Tin Cup (1996)
The Postman in The Postman (1997)
Garret Blake in Message in a Bottle (1999)
Billy Chapel in For Love of the Game (1999)
Kenny O'Donnell in Thirteen Days (2000)
Murphy in 3000 Miles to Graceland (2001)
Joe Darrow in Dragonfly (2002)
Charley Waite in Open Range (2003)
Denny Davies in The Upside of Anger (2005)
Beau Burroughs in Rumor Has It... (2005)
Ben Randall in The Guardian (2006)
Mr. Earl Brooks in Mr. Brooks (2007)
Bud Johnson in Swing Vote (2008)
John James in The New Daughter (2009)
Jack Dolan in The Company Men (2010)
Jonathan Kent in Man of Steel (2012)
"I am not going to give any trade secrets. You will have to pay," he said with a laugh. "How much is it to go to a movie? you never know its like oil it just keeps going up. I look forward to making that movie and throwing our spin on it"
Ad blocker interference detected!
Wikia is a free-to-use site that makes money from advertising. We have a modified experience for viewers using ad blockers

Wikia is not accessible if you've made further modifications. Remove the custom ad blocker rule(s) and the page will load as expected.