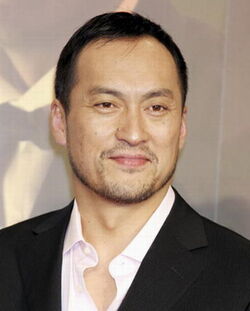 Ken Watanabe portrayed Ra's Al Ghul's decoy in Batman Begins.
Significant roles
Edit
Date Masamune in Dokugan-ryu Masamune (1987)
Ryouma Sakamoto in Bakumatsu jyunjyoden (1991)
Katsumoto in The Last Samurai (2003)
Ra's al Ghul's decoy in Batman Begins (2005)
Chairman in Memoirs of a Geisha (2005)
General Kuribayashi in Letters from Iwo Jima (2006)
Mr. Tall in Cirque du Freak: The Vampire's Assistant (2009)
Saito in Inception (2010)
"My next role will be in Batman Begins. I chose the part because I liked the script -- I picked it out immediately. I don't really have a strategy, but I do pay attention to the way the script envisages the world and how that view is conveyed through the roles, as well as what the director wants to express. In Batman Begins I play a villain who has to guide a person who is wavering between good and evil. Exploring the dark side of human nature is something that interests me."
Ad blocker interference detected!
Wikia is a free-to-use site that makes money from advertising. We have a modified experience for viewers using ad blockers

Wikia is not accessible if you've made further modifications. Remove the custom ad blocker rule(s) and the page will load as expected.