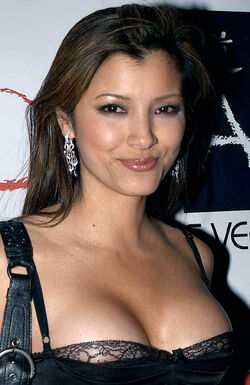 Kelly Hu voices Mrs. Li in Batman: Under the Red Hood and Laira in Green Lantern: Emerald Knights, she also played Chien Na Wei in Arrow.
Significant roles
Edit
Eva Watanabe in Friday the 13th Part VIII: Jason Takes Manhattan (1989)
Dorothy in The Doors (1991)
Ro-May in Surf Ninjas (1993)
Seiko Kobayashi in No Way Back (1995)
Yukiko Fujisaki in In the Fold (1996)
Rae Chang in Sunset Beach (1997)
Michelle Chan in Nash Bridges (1997-1998)
Chen Pei Pei in Martial Law (1998-2000)
Sona in Cradle 2: The Grave (2003)
Lady Deathstrike in X2: X-Men United (2003)
Julia Hoffman in Dark Shadows (2004)
Lana in The Librarian: Quest for the Spear (2004)
Det. Kaile Maka in CSI: NY (2005-2006)
Vera in Undoing (2006)
Jiyoung in The Air I Breathe (2007)
Micki Yang in Shanghai Kiss (2007)
Kelly Lee in In Case of Emergency (2007)
Lilith in Farmhouse (2008)
Sha Shan Nguyen in The Spectacular Spider-Man (2009)
Lai Lai Zhen in The Tournament (2009)
Stacy in Phineas and Ferb (2007-2009)
Pearl in The Vampire Diaries (2010)
Mrs. Li in Batman: Under the Red Hood (2010)
Laira in Green Lantern: Emerald Knights (2011)
Cheshire, Paula Crock and Lian Nguyen-Harper in Young Justice (2011-2013)
China White in Arrow (2012-2013)
Karai in Teenage Mutant Ninja Turtles (2013-present)
Please add some quotes from this performer about their work in DC movies!
External links
Edit