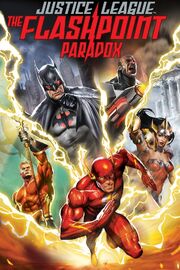 Justice League: The Flashpoint Paradox was released by Warner Home Video as a Blu-ray Combo Pack and DVD, On Demand and for Download on July 30, 2013 and Blu-ray Combo Pack includes UltraViolet was released on September 10, 2013.
Combo Pack
Edit
The DVD/Blu-ray/Ultraviolet combo pack includes 2 hours of content, including:
Standard and high definition versions of the feature film in UltraViolet and Blu-ray.
Audio Commentary: Producer James Tucker, director Jay Olivia, screenwriter Jim Krieg and comic writer Geoff Johns discuss Krieg's adaptation of Johns' original comicbook story, the differences between the two, and everything from the Studio 4°C animation to the character designs, voice casting, action beats, favorite scenes and more.
A Flash in Time: Time Travel in the Flash Universe (HD, 22 minutes): "The Hero's Journey" author Phil Cousineau outlines a brief history of time as interpreted in stories by the Greeks and other cultures, followed by an overview of the manipulation of time as conceived and implemented in the Flash universe. It's a rather dry doc, though; overly serious and rather tangential to the animated movie and the Flash mythos.
My Favorite Villain! The Flash Bad Guys (HD, 19 minutes): Flash fans will enjoy the disc's second documentary much more. The Rogues are front and center — chief among them Captain Cold, Mirror Master, Heat Wave, The Weather Wizard and The Reverse Flash — and their origins, personalities and roles in the DC universe are dissected by the filmmakers and other talking heads.
Sneak Peak at Justice League: War (HD, 8 minutes): A look at the next DCU animated movie, Justice League: War, an adaptation of "The New 52″ origin story of the JLA. War features fresh versions of the characters, new voice actors, a quippier "buddy movie" tone, and the first battle between Darkseid and the JLA in the New 52 universe, and is set to arrive on Blu-ray sometime in early 2014.
From the Vault (HD/SD, 89 minutes): Four DCU animated TV series episodes are included — "Requiem for a Scarlet Speedster!" from Batman: The Brave and the Bold and "Flash and Substance" from Justice League: Season Two are presented in standard definition, while "Legends, Parts 1 & 2″ from Justice League Unlimited is presented in HD.
Flashpoint #1 Digital Comic Excerpt (HD): An 8-page excerpt of Geoff Johns' Flashpoint #1.
Ad blocker interference detected!
Wikia is a free-to-use site that makes money from advertising. We have a modified experience for viewers using ad blockers

Wikia is not accessible if you've made further modifications. Remove the custom ad blocker rule(s) and the page will load as expected.