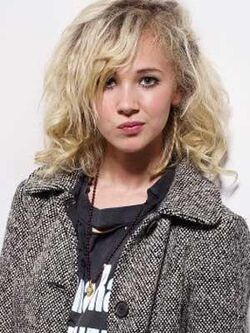 Juno Temple portrayed Jen in The Dark Knight Rises.
Significant roles
Edit
Polly Hart in Notes on a Scandal (2006)
Lola Quincey in Atonement (2007)
Celia in St. Trinian's (2007)
Jane Parker in The Other Boleyn Girl (2008)
Drippy in Wild Child (2008)
Eema in Year One (2009)
Anna in Mr. Nobody (2009)
Celia in St. Trinian's 2: The Legend of Fritton's Gold (2009)
Muriel in Greenberg (2010)
London in Kaboom (2011)
Di in Cracks (2011)
Danielle in Dirty Girl (2011)
Queen Anne in The Three Musketeers (2011)
Jen in The Dark Knight Rises (2012)
Diane in Jack and Diane (2012)
Lovelace (2012)
The Brass Teapot (2013)
Alicia in Magic, Magic (2013)
Thistlewit in Maleficent (2014)
"I can't talk about that. But I think it's going to be [frick]ing unbelievable. [Nolan] is awesome! There's something really gentlemanly about him. He's got an insane, incredible vision going on. Just getting the opportunity to work with him is awesome."
Ad blocker interference detected!
Wikia is a free-to-use site that makes money from advertising. We have a modified experience for viewers using ad blockers

Wikia is not accessible if you've made further modifications. Remove the custom ad blocker rule(s) and the page will load as expected.