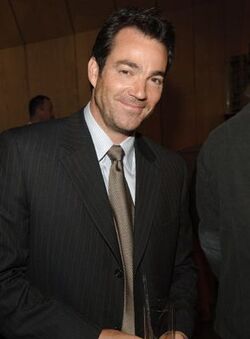 Jon Tenney portrayed Martin Jordan in Green Lantern.
Significant roles
Edit
Janosz Feke in Dirty Dozen: The Series (1988)
Peter Bauer in Equal Justice (1990-1991)
John Behan in Tombstone (1993)
Levine in Beverly Hills Cop III (1994)
Lt. Ching in Lois & Clark: The New Adventures of Superman (1996)
Alan in Lovelife (1997)
Patrol Sgt. Francis X. Donovan in Brooklyn South (1997-1998)
Dorian Mastandrea in With Friends Like These... (1998)
Mitch Green in Get Real (1999-2002)
Bob Steegerson in You Can Count on Me (2000)
Andrew Hahn in Buying the Cow (2002)
Hank Riley in The Division (2004)
Agent Fritz Howard in The Closer (2005-2011)
Dr. Simon Craig in Brothers & Sisters (2009-2010)
Howard Anderson in Legion (2010)
Martin Jordan in Green Lantern (2011)
Please add quotes from this performer about their work in DC Movies!
Ad blocker interference detected!
Wikia is a free-to-use site that makes money from advertising. We have a modified experience for viewers using ad blockers

Wikia is not accessible if you've made further modifications. Remove the custom ad blocker rule(s) and the page will load as expected.