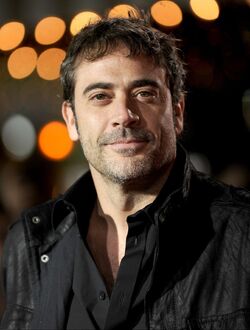 Jeffrey Dean Morgan portrayed Edward Blake/The Comedian in Watchmen, Franklin Clay in The Losers, Jeb Turnbull in Jonah Hex and Thomas Wayne in Batman v Superman: Dawn of Justice.
Significant roles
Edit
Jack Hawkins in Extreme (1995)
Dr. Edward Marcase in The Burning Zone (1996-1997)
Judah Botwin in Weeds (2005)
John Winchester in Supernatural (2005-2008)
Denny Duquette in Grey's Anatomy (2006-2009)
William in P.S. I Love You (2007)
Patrick in The Accidental Husband (2008)
Bryan Gordon in Days of Wrath (2008)
Edward Blake/The Comedian in Watchmen (2009)
Edward Blake/The Comedian in Under the Hood (2009)
Clay in The Losers (2010)
Jeb Turnbull in Jonah Hex (2010)
Max in The Resident (2011)
Jude in Peace, Love & Misunderstanding (2011)
The Courier in The Courier (2012)
Clyde in The Possession (2012)
Tanner in Red Dawn (2012)
Ike Evans in Magic City (2012-2013)
JD Richter in Extant (2015)
Joe Di Maggio in The Secret Life of Marilyn Monroe (2015)
"Deaf" Smith in Texas Rising (2015)
"Man, I would love to play that Batman… It would be very cool. Flashpoint would be very cool."
"Maybe when Zack cast me that was kind of the goal. Hopefully DC can figure this all out, and in a few years I can come back and do a Flashpoint Batman! I would love it. That would be great."
"I have not had any big discussions with him about Flashpoint, but I remember when we were in Australia doing Watchmen press, and I was having dinner with Zack or whatever. And he was like, 'My dream is to do the Frank Miller Batman.' And he goes, 'You would be an awesome Batman.' The darker version."
External links
Edit
Ad blocker interference detected!
Wikia is a free-to-use site that makes money from advertising. We have a modified experience for viewers using ad blockers

Wikia is not accessible if you've made further modifications. Remove the custom ad blocker rule(s) and the page will load as expected.