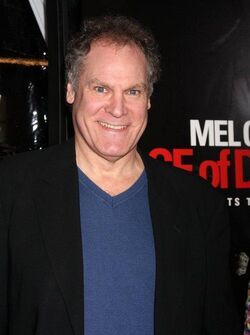 Jay O. Sanders portrayed Carl Ferris in Green Lantern.
Significant roles
Edit
Peter in The Day Christ Died (1980)
Steve Kordo in Crime Story (1986-1988)
Gen. George Crockett Strong in Glory (1989)
Lou Ivon in JFK (1991)
Ranch Wilder in Angels in the Outfield (1994)
Coach Jay Huffer in The Big Green (1995)
Agent Kyle Craig in Kiss the Girls (1997)
Leroy in The Odd Couple 2 (1998)
Howard Bevens in Picnic (2000)
Kyle Craig in Along Came a Spider (2001)
Joseph O'Brien in Boss of Bosses (2001)
Mike in The Last Brickmaker in America (2001)
Frank Harris in The Day After Tomorrow (2004)
Russ Dunne in Half Nelson (2006)
Mr. Feder in Cadillac Records (2008)
Bart Pollack in Revolutionary Road (2008)
Tim the Delivery Guy in I Hate Valentine's Day (2009)
Whitehouse in Edge of Darkness (2010)
Carl Ferris in Green Lantern (2011)
Please add quotes from the performer about their work in DC Movies!
Ad blocker interference detected!
Wikia is a free-to-use site that makes money from advertising. We have a modified experience for viewers using ad blockers

Wikia is not accessible if you've made further modifications. Remove the custom ad blocker rule(s) and the page will load as expected.