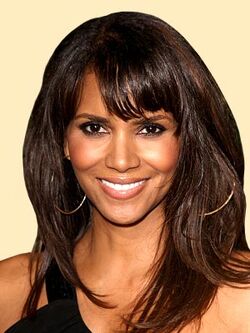 Halle Berry portrayed Patience Phillips/Catwoman in Catwoman.
Significant roles
Edit
The Flintstones - Sharon Stone
Why Do Fools Fall in Love - Zola Taylor
Intoducing Dorothy Dandridge - Dorothy Dandridge
X-Men - Ororo Monroe/Storm
Die Another Day - Giacinta 'Jinx' Johnson
X2: X-Men United - Ororo Monroe/Storm
Gothika - Miranda Grey
Catwoman - Patience Phillips/Catwoman
Robots - Cappy (Voice)
X-Men: The Last Stand - Ororo Monroe/Storm
Perfect Stranger - Rowena Price
"First of all I want to thank Warner Brothers. Thank you for putting me in a piece of shit, God-awful movie. It was just what my career needed. I was at the top and Catwoman just plummeted me to the bottom."
Ad blocker interference detected!
Wikia is a free-to-use site that makes money from advertising. We have a modified experience for viewers using ad blockers

Wikia is not accessible if you've made further modifications. Remove the custom ad blocker rule(s) and the page will load as expected.