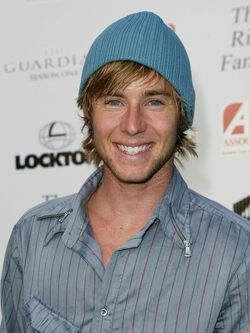 Greg Cipes voices Garfield Logan/Beast Boy in the TV series Teen Titans and the animated feature Teen Titans: Trouble in Tokyo and Teen Titans GO! To the Movies. He also voices Private H.I.V.E. in the animated TV series Teen Titans.
Significant roles
Edit
Chopper in House Blend (2002)
Jack Jr. in Whatever Happened to Robot Jones? (2002)
Tanner in MDs (2002)
Atlas in Astro Boy (2003)
Will Johnston in Peacemakers (2003)
Royal Flush Gang's Jack in Justice League (2003)
Beast Boy, Private H.I.V.E. and Adonis in Teen Titans (2003-2006)
Orangatan in Father of the Pride (2004)
Trevor in Club Dread (2004)
Miles Anderson in Deadwood (2004)
Butter in One on One (2004-2005)
Chiro in Super Robot Monkey Team Hyperforce Go! (2004-2006)
Caleb in W.I.T.C.H. (2004-2006)
Curtis in Kathy T (2005)
Dean in Totally Spies! (2005)
Jamey Barton in Ghost Whisperer (2005-2007)
Ryan in The Wild (2006)
Beast Boy in Teen Titans: Trouble in Tokyo (2006)
Reed in Pledge This! (2006)
Hippie Diplomant in The Onion Movie (2008)
Vance in Killer Pad (2008)
Kevin Levin in Ben 10: Alien Force (2008-2010)
Dwight in Fast & Furious (2009)
Bufort Norris in True Blood (2010)
Horace in Kick Buttowski: Suburban Daredevil (2010)
Kevin Levin in Ben 10: Ultimate Alien (2010-2012)
Chuck in The Middle (2010-2014)
Sam in Vile (2011)
J.T. in General Hospital (2011)
Beast Boy in New Teen Titans (2011-2012)
Steve Jackson in Fish Hooks (2011-2013)
Zatt in Star Wars: The Clone Wars (2012)
Danny Rand/Iron Fist in Ultimate Spider-Man (2012-2013)
Kevin Levin in Ben 10: Omniverse (2012-2014)
Michelangelo in Teenage Mutant Ninja Turtles (2012-2014)
Tony in Holla II (2013)
Canvas in Anger Management (2013)
Iron Fist in LEGO Marvel Super Heroes: Maximum Overload (2013)
Beast Boy in Teen Titans Go! (2013-2014)
Please add some quotes from this performer about their work in DC movies!
External Links
Edit