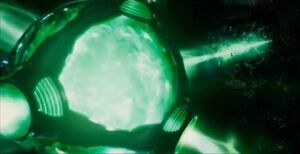 The Green Lantern Central Power Battery is a Battery that powers all of the Green Power Rings within the universe. It is located on the home of the Green Lantern Corps on the planet Oa in the lower part of the Oan Citadel.
The Central Power Battery was built by the immortal Guardians of the Universe after they had abandoned their homeworld of Maltus and settled on the planet Oa. This massive device served as a reservoir for all of their combined cosmic power which was based on the Green Light of Will in the Emotional Spectrum and was an edifice created from a single crystal.
Ad blocker interference detected!
Wikia is a free-to-use site that makes money from advertising. We have a modified experience for viewers using ad blockers

Wikia is not accessible if you've made further modifications. Remove the custom ad blocker rule(s) and the page will load as expected.