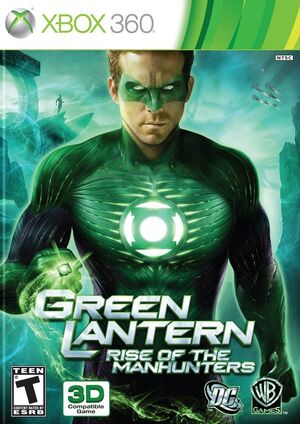 Green Lantern: Rise of the Manhunters is a 2011 video game that's set after the film.
The Manhunters are an android race, originally created by the Guardians of the Universe to serve as the first interstellar police force. The Manhunters became more obsessed with administering punishment than serving justice, forcing the Guardians to dissolve their ranks. The few Manhunters that survived fled into exile and the Guardians founded a new elite police force called the Green Lantern Corps and armed its members with specially crafted power rings. Now the Manhunters are back and out for revenge, readying their forces for a war against the Guardians and the Green Lantern Corps. Faced with destruction, the Corps is looking to gifted but cocky test pilot Hal Jordan as the newest recruit, to protect peace and preserve justice.
Voice Cast
Edit
Ad blocker interference detected!
Wikia is a free-to-use site that makes money from advertising. We have a modified experience for viewers using ad blockers

Wikia is not accessible if you've made further modifications. Remove the custom ad blocker rule(s) and the page will load as expected.