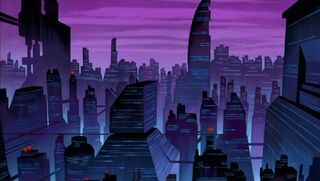 Gotham City is the city that Batman protects.
To be added
To be added
To be added
TV Movies
Edit
To be added
To be added
To be added
Several years ago, New York gained a new protector in Robin.
HARDAC planed to replace all the people on Earth with robots, starting with New York, before he was stopped by Batman.
To be added
To be added
New York falls under control of Vandal Savage during his tampering with World War II. It was returned to normal by the Justice League.
Gotham is the Justice League's safe haven during the Thanagarian invastion.
Gotham, along with the rest of existence, was put at risk by Chronos.
To be added
Kobra is based in Gotham, New York.
Superman helps Batman stop a theft by Inque in Gotham before recruiting him to the Justice League Unlimited.
Residents
Edit
Ad blocker interference detected!
Wikia is a free-to-use site that makes money from advertising. We have a modified experience for viewers using ad blockers

Wikia is not accessible if you've made further modifications. Remove the custom ad blocker rule(s) and the page will load as expected.