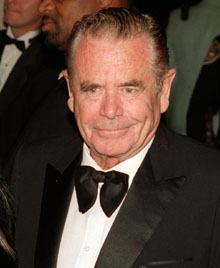 The late Glenn Ford portrayed Jonathan Kent in Superman: The Movie.
Significant roles
Edit
Martin Eden in Martin Eden (1942)
Johnny Farrell in Gilda (1946)
Don José in The Loves of Carmen (1948)
Jim Canfield in The Secret of Convict Lake (1951)
John Stroud in The Man from the Alamo (1953)
Det. Sgt. Dave Bannion in The Big Heat (1953)
Sam Dent in The Americano (1955)
Richard Dadier in Blackboard Jungle (1955)
David G. "Dave" Stannard in Ransom! (1956)
George Temple/George Kelby, Jr. in The Fastest Gun Alive (1956)
Ben Wade in 3:10 to Yuma (1957)
Yancey "Cimarron" Cravat in Cimarron (1960)
Dave the Dude in Pocketful of Miracles (1961)
Tom Corbett in The Courtship's of Eddie's Father (1963)
Général Bradley/Lt. Gen. Omar N. Bradley in Paris brûle-t-il? (1966)
Marshal Dan Blaine in The Last Challenge (1967)
Sam Cade in Cade's County (1971-1972)
Colonel Pete Moore in The Disappearance of Flight 412 (1974)
Rear Admiral Raymond A. Spruance in Midway (1976)
Jonathan Kent in Superman: The Movie (1978)
Dr. David Faraday in Happy Birthday to Me (1981)
Please, add some quote from this performer about his work with DC movies!
Ad blocker interference detected!
Wikia is a free-to-use site that makes money from advertising. We have a modified experience for viewers using ad blockers

Wikia is not accessible if you've made further modifications. Remove the custom ad blocker rule(s) and the page will load as expected.