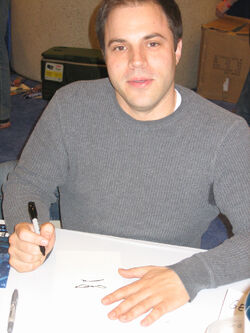 Geoff Johns is the co-producer of Green Lantern and Flashpoint, executive producer of Wonder Woman, the screen story for Justice League: Throne of Atlantis and Aquaman, executive producer and co-writer of Robot Chicken DC Comics Special and Robot Chicken DC Comics Special II: Villains in Paradise, executive producer of Justice League: The Flashpoint Paradox, Batman v Superman: Dawn of Justice, Suicide Squad, Wonder Woman, Aquaman and Green Lantern Corps. Johns is also the co-writer of Smallville: Absolute Justice, Green Lantern: Emerald Knights and The Batman.
Ad blocker interference detected!
Wikia is a free-to-use site that makes money from advertising. We have a modified experience for viewers using ad blockers

Wikia is not accessible if you've made further modifications. Remove the custom ad blocker rule(s) and the page will load as expected.