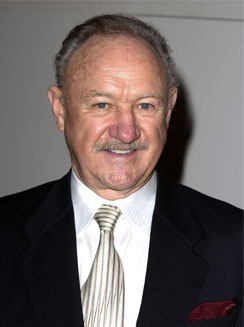 Gene Hackman portrayed Lex Luthor in Superman: The Movie, Superman II and Superman IV: The Quest for Peace. Hackman also voiced Nuclear Man in Superman IV.
Significant roles
Edit
Buck Barrow in Gangster Story (1967)
Gene Garrison in I Never Sang for My Father (1970)
Jimmy Doyle in The French Connection (1971)
Harry Caul in The Conversation (1974)
Jimmy Doyle in French Connection II (1975)
Harry Moseby in Night Moves (1975)
Kibby Womack in Lucky Lady (1975)
Major General Sosabowski in A Bridge Too Far (1977)
Lex Luthor in Superman: The Movie (1977)
Lex Luthor in Superman II (1980)
George Dupler in All Night Long (1981)
God in Two of a Kind (1983)
Col. Cal Rhodes in Uncommon Valor (1983)
Harry MacKenzie in Twice in a Lifetime (1985)
Wilfred Buckley in Power (1986)
Coach Norman Dale in Hoosiers (1986)
Lex Luthor in Superman IV: The Quest for Peace (1987)
Defense Secretary David Brice in No Way Out (1987)
Lt. Col. Iceal Hambleton in Bat*21 (1988)
Agent Rupert Anderson in Mississipi Burning (1988)
Sgt. Johnny Gallagher in The Package (1989)
Lowell Kolchek in Postcards from the Edge (1990)
Robert Caulfield in Narrow Margin (1990)
Little Bill Daggett in Unforgiven (1992)
Avery Tolar in The Firm (1993)
Brig. Gen. George Crook in Geronimo: An American Legend (1993)
Nicholas Earp in Wyatt Earp (1994)
Herod in The Quick and the Dead (1995)
Capt. Frank Ramsey in Crimson Tide (1995)
Harry Zimm in Get Shorty (1995)
Sen. Kevin Keeley in The Birdcage (1996)
Dr. Lawrence Myrick in Extreme Measures (1996)
Sam Cayhall in The Chamber (1996)
President Allen Richmond in Absolute Power (1997)
Jack Ames in Twilight (1998)
General Mandible in AntZ (1998)
Jimmy McGinty in The Replacements (2000)
Arnold Margolese in The Mexican (2001)
William B. Tensey in Heartbreakers (2001)
Joe Moore in Heist (2001)
Royal Tenenbaum in The Royal Tenenbaums (2001)
Admiral Leslie MacMahon Reigart in Behind Enemy Lines (2001)
Rankin Finch in Runaway Jury (2003)
Monroe Cole in Welcome to Mooseport (2004)
Please add quotes from this performer about their work in DC Movies!
Ad blocker interference detected!
Wikia is a free-to-use site that makes money from advertising. We have a modified experience for viewers using ad blockers

Wikia is not accessible if you've made further modifications. Remove the custom ad blocker rule(s) and the page will load as expected.