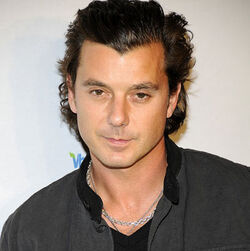 Gavin Rossdale portrayed Balthazar in Constantine.
Significant roles
Edit
Random in Little Black Book (2004)
Balthazar in Constantine (2005)
Stanley Mortensen in The Game of Their Lives (2005)
Simon in How to Rob a Bank (2007)
Ricky in The Bling Ring (2013)
"I think the main thing was to just remove all conscience, all caring, all thought for anyone else and to be as reveling in someone else's misery and pain as possible. So, basically, it was to be as inhumane as I could think of. And the words really helped do that because they're so well written and it was so much fun just playing around and just treating John Constantine like a cat does a mouse."
"Well, the stunt guy is whenever I'm flying through the air. You've got to give the credit to the stunt guys. But the rest of it from my own perspective, I was doing a lot of – most of – that because there wasn't that much else actually. I'm just a slice, it's Keanu's film (laughing)."
"A couple of months I carried the coin around and just would play with it whenever I could. Of course the chat shows that I've been doing, they all give me the coins to do the 'roll.' So I can still do it."
Ad blocker interference detected!
Wikia is a free-to-use site that makes money from advertising. We have a modified experience for viewers using ad blockers

Wikia is not accessible if you've made further modifications. Remove the custom ad blocker rule(s) and the page will load as expected.