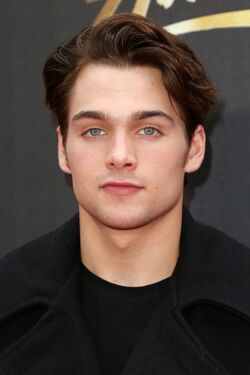 Dylan Sprayberry portrayed teenage Clark Kent in Man of Steel.
Significant roles
Edit
Sammy in Soccer Mom (2008)
Jesse in State of the Union (2008-2009)
Grant in Reconciliation (2009)
Andy Wilder in The Honeysting (2009)
John Van Horn in Chasing a Dream (2009)
Mike in The Three Gifts (2009)
Max in Bedrooms (2010)
Lovell in Shuffle (2011)
Young Clark Kent in Man of Steel (2013)
Liam Dunbar in Teen Wolf (2014–2017)
"I just finished shooting 'Man of Steel.' That was in Canada and Chicago. I filmed that all last year."
"When Zack and I were talking about it the first time, he was saying how Superman, they want to give it a more edgy feel like The Dark Knight but also make it more realistic and emotional so it's not just the all-american superhero that saves everyone. He has dilemmas and love and struggles throughout the whole movie, especially when he's a kid."
Ad blocker interference detected!
Wikia is a free-to-use site that makes money from advertising. We have a modified experience for viewers using ad blockers

Wikia is not accessible if you've made further modifications. Remove the custom ad blocker rule(s) and the page will load as expected.