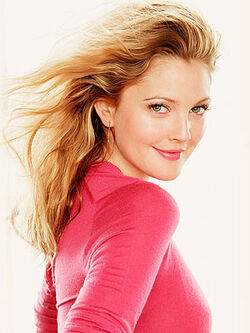 Drew Barrymore portrayed Sugar in Batman Forever.
Significant roles
Edit
Margaret Jessup in Altered States (1980)
Gertie in E.T. the Extraterrestrial (1982)
Charlene "Charlie" McGee in Firestarter (1984)
Fantasy Girl in Motorama (1991)
Ivy in Poison Ivy (1992)
Anita Minteer in Guncrazy (1992)
Amy Fisher in The Amy Fisher Story (1993)
Tinsel Hanley in No Place to Hide (1993)
Bjergen Kjergen in Wayne's World 2 (1993)
Lilly Laronette in Bad Girls (1994)
Holly in Boys on the Side (1995)
Sugar in Batman Forever (1995)
Skylar Dandridge in Everyone Says I Love You (1996)
Casey in Scream (1996)
Hope in Best Men (1997)
Julia Sullivan in The Wedding Singer (1998)
Sally Jackson in Fast Food (1998)
Josie Geller in Never Been Kissed (1999)
Olive in Olive, the Other Reindeer (1999)
Akima in Titan A.E. (2000)
Dylan Sanders in Charlie's Angels (2000)
Karen Pomeroy in Donnie Darko (2001)
Beverly Donofrio in Riding in Cars with Boys (2001)
Penny in Confessions of a Dangerous Mind (2002)
Dylan Sanders in Charlie's Angels: Full Throttle (2003)
Nancy Kendricks in Duplex (2003)
Lucy Whitmore in 50 First Dates (2004)
Lindsey in Fever Pitch (2005)
Jillian Russell in Family Guy (2005-2010)
Maggie in Curious George (2006)
Sophie Fisher in Music and Lyrics (2007)
Billie Offer in Lucy You (2007)
Chloe in Beverly Hills Chihuahua (2008)
Mary in He's Just Not That Into You (2009)
Little Edie in Grey Gardens (2009)
Smashley Simpson in Whip It (2009)
Rosie in Everybody's Fine (2009)
Erin in Going the Distance (2010)
Rachel Kramer in Everybody Loves Whales (2012)
Please add some quotes from the performer about their work in DC Movies!
Ad blocker interference detected!
Wikia is a free-to-use site that makes money from advertising. We have a modified experience for viewers using ad blockers

Wikia is not accessible if you've made further modifications. Remove the custom ad blocker rule(s) and the page will load as expected.