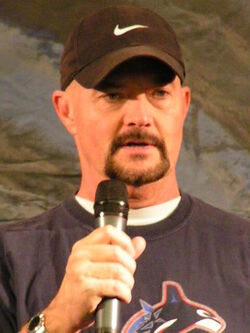 Doug Abrahams portrayed Heraldson in Man of Steel.
Significant roles
Edit
Sgt. Murphy in The Commish (1991-1992)
Lt. Neary in The X-Files (1993-1996)
Det. Greeden in Catch Me If You Can (1998)
Ori Prior in Stargate SG-1 (2002-2007)
Fred Jenkins in The Dead Zone (2003)
Det. Tom Kelly in Premonition (2005)
Gen. Lonot in Tin Man (2007)
Santa in The Mrs. Clause (2008)
Heraldson in Man of Steel (2013)
Please add some quotes from this perfomer about his work with DC movies!
Ad blocker interference detected!
Wikia is a free-to-use site that makes money from advertising. We have a modified experience for viewers using ad blockers

Wikia is not accessible if you've made further modifications. Remove the custom ad blocker rule(s) and the page will load as expected.